Staff
Our dedicated staff members are here to provide support, compassion, and information to help you through your journey of grief and the celebration of your loved one's life.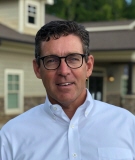 Clift C. Dempsey, CCFE
Owner & Founder
Clift C. Dempsey, CCFE is a third generation funeral professional having started his career at the young age of twenty years old selling cemetery arrangements for his family's three cemeteries in Rome, Georgia. Mr. Dempsey quickly became involved in the professions state, regional and national associations learning more and more about the industry.

While working full time for his family's business Mr. Dempsey graduated from Shorter College in 1993 receiving a Bachelors of Science degree in Business Administration. Mr. Dempsey went on and held numerous Board of Director positions with the Georgia Cemetery Association, Southern Cemetery, Cremation and Funeral Association and the International Cemetery, Cremation and Funeral Association. The first two associations Mr Dempsey is a Past President. Mr. Dempsey received his CCFE designation which means he is recognized by the ICCFA to be a Certified Cemetery and Funeral Executive for the contributions to his industry and to his community as well as the Quarter Century Award for his involvement in the funeral industry. Mr. Dempsey just graduated from the ICCFA University, an industry educational program in 2019.

In 2008 Mr Dempsey was appointed by Georgia Governor Sonny Perdue to become the first Chairman of the State Board of Cemeterians. This board regulates over 216 perpetual care cemeteries for the State of Georgia and oversees all regulatory and legislative matters. In 2013, Dempsey opened Georgia Cremation Centers which was renamed Leaf Cremation to serve families all over the State of Georgia with a low cost alternative to funeral expenses and to provide the best possible service to families choosing cremation. Dempsey is opening a new Leaf Cremation Center in Columbus, Ohio and plans to continue the growth throughout the United States.

Mr. Dempsey is active in his local church being an ordained deacon and missions team leader. For over 11 years Mr. Dempsey has lead a mission team yearly to Sesheke, Zambia, Africa to help a church in this impoverished area of Africa. Mr. Dempsey earned his Eagle Scout Award from the Boy Scouts of America and has been active in the scouting program his adult life. He is a graduate of the Adult Leadership Program of the Cartersville-Bartow Chamber of Commerce. Mr. Dempsey enjoys golf and spending time with his family.

Mr. Dempsey is married to Melanie and they have four children, Clifton, Pierce, Wyn and Mac, a grandson, Charlie and family pets, Sadie and Callie.
Certified Crematory Operator
Ric Casey
Funeral Director Apprentice
ric@leafcremation.com
Eric (Ric) grew up in Mechanicsburg, OH, where he graduated high school in 2015. He received a Bachelors in Business Administration from Thiel College and an Associates in Specialized Technology, Funeral Directing and Embalming from Pittsburgh Institute of Mortuary Science. Ric joined Leaf Cremation in July of 2020. You can find him enjoying his free time by exploring the city parks, markets, and restaurants. He also enjoys relaxing to Disney movies with a glass of red wine.